Sustainability pioneer Rick Ridgeway on how the company plans to expand in Australia without compromising its values and why critics of 'that' ad are wrong
In January, Rose Marcario, chief executive of sustainable outdoor clothing chain Patagonia wrote an open letter to Australia's environment minister, Greg Hunt, making clear Patagonia's (and 17 other businesses') opposition to the expansion of the Abbot Point coal terminal in Queensland.
Marcario argued that the dredging scheme – which is yet to be given the go–ahead – could "fundamentally damage a region of internationally significant ecological significance", namely the Great Barrier Reef marine park.
It's part of an increasing interest Patagonia has taken in Australia. It's opened five local stores in the past six years, tripled Earth Tax funding to Australian environmental projects in the last 12 months, and pledged to give more grants to "help save a reef that's not only important to Australians, but to everyone everywhere".
Rick Ridgeway, Patagonia's vice president of environmental initiatives and co-founder of the Sustainable Apparel Coalition , was in Melbourne recently for a business event. He says environmental protection is not just an integral part of the company's ethics, but also of its business model.
"As we grow our business in Australia, we'll also be scaling, at the same rate, our philanthropic duties to the country and to its environmental protection. But we want to organically grow our business here in a way that doesn't require us to compromise our core values and our mission.
"We'll never expand just to boost sales if it causes environmental harm."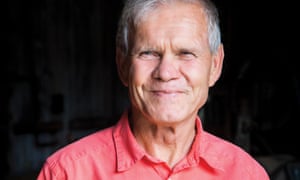 Balancing the two is no easy task. The company was criticised by many in the apparel industry in 2011 when it ran the now-famous Don't buy this jacket advert, highlighting all the resources used to make its best-selling jacket. When sales went up after this advert was published, some businesses started calling the company hypocritical.
Ridgeway emphatically refutes this claim, saying: "We wanted to stop people in their tracks so that they would pause and read the copy in the ad – which explained that the jacket takes 135 litres of water to make, produces 20 kilograms of greenhouse gas emissions, and two-thirds of its own weight would be left behind as waste. We were showing that no matter how much we try to make a jacket with 'no unnecessary harm' – which is our mission – it still creates a lot of harm to the planet.
"What we were really saying wasn't so much 'don't buy this jacket', it was 'don't buy it if you don't need it' and be aware of the impacts of the things you buy.
"So, we're not hypocrites. The apparel industry has a very large footprint, but we're in the business of giving our customers products that have as small a footprint as possible, but that are also durable as possible."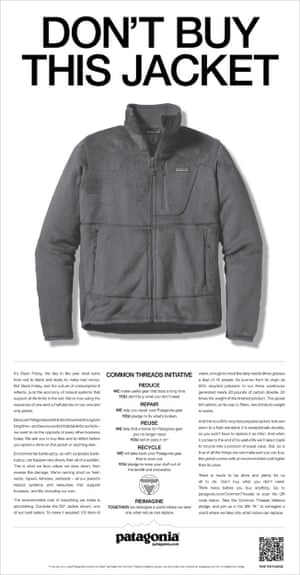 To minimise the environmental footprint of the company's expansion into Australia, Patagonia is now making "serious plans" to bring its Worn Wear take-back scheme (which offers US customers the chance to donate, repair or recycle their old Patagonia clothing) to Australia.
Environmental sustainability should not be the only focus of an ethical business, Ridgeway says, suggesting that social responsibility – in terms of working with local and indigenous communities – should be considered too. Patagonia also has a sustainable, locally sourced food business, which he hopes to bring to Australia.
The Australian apparel industry has tentatively welcomed news of these plans. Kiri Delly, chief executive of the Council of Textile and Fashion Industries of Australia (TFIA), says: "It's great that they're looking at things from a local perspective – we fully support that. And it might help push local businesses to realise the importance of sustainability in their supply chains.
"We're all for not selling more, but selling better, and making sure that people understand that making a piece of clothing has a whole other side to it. Having the Worn Wear scheme here will help raise the bar and ensure that everyone thinks about what happens to their clothes after they have finished with them."
She added: "This is only going to create more positive competition."
Sustainable Apparel Coalition could come to Australia
To stimulate "positive competition" and boost the sustainability of Australia's clothing industry, Ridgeway is investigating an Australian caucus of the Sustainable Apparel Coalition.
The coalition's tools for boosting sustainability are already available in Australia (the Australian government is a member), and include life cycle assessments for material choices, sustainability tips for supply chain management, and "ultimately help provide a footprinting tool for finished products".
But Ridgeway believes that there is a need to now regionalise the experience to encourage Australian apparel and footwear companies to become members.
"About 40% of the entire global apparel and footwear industry are members of the coalition, and are all working together to reduce their environmental impact and improve social labour outcomes.
"But, as far as I am aware, there are no Australian companies listed as members. So we're hoping to bring it to Australia to get more Australian companies aware of the opportunities that the coalition provides them."
These opportunities, he says, largely lie in the fact that the coalition provides a standardised measurement for sustainability across the global clothing industry, and can demonstrate, "where you're at on a global scale, and where you need to apply your resources if you're going to catch up with the industry on a global level, in terms of sustainability".
*This story first appeared on The Guardian.