Fashion Revolution Week
By Lucy Seigle
Every year millions of garments are discarded as consumers ditch fast-fashion styles for a new wardrobe. At last the industry is acting – but more has to be done
Facebook users will be familiar with the On This Day feature. From time to time it greets you with a blast from your relatively recent past. Some find it unnerving, especially if it's a picture with an ex, for example. But my eye is always drawn to the clothes. Whatever happened to that handbag? Do you still wear those jeans?
If it's an image from more than three years ago, then the answer is probably "no". According to a recent report from Wrap (the Waste and Resources Action Programme), the average piece of clothing in the UK lasts for 3.3 years before being discarded. Other research puts the lifespan of UK garments at 2.2 years. For a younger demographic, you can probably halve that. A UK-based fashion company tells its buyers to remember that a dress will stay in the owner's wardrobe for only five weeks.
The way we get dressed now has virtually nothing in common with the behaviour of previous generations, for whom one garment could be worn for decades. Wrap estimates that we purchased 1.13m tonnes of new clothing last year in the UK. While an estimated £30bn-worth hangs about gathering dust – Tinie Tempah's refrain "I have so many clothes, I keep some at my aunt's house" was spot on – an unpalatable quantity goes in the bin. A survey commissioned by Sainsbury's last spring found that 235m items ended up on landfill sites as people readied their wardrobes for summer. Surely we can do better than this?
Vivienne Westwood – never one to miss an opportunity to call her legion of fans to action – thinks we can. "It's about quality, not quantity – not landfill," she said recently at one of her own shows. Hot on her heels, Vetements, very much the "it" brand of our times, made its own statement last week. The label filled the windows of Saks Fifth Avenue in New York – one of the commercial hotspots of global fashion retail – not with its latest collection, but with waste garments en route to a recycling charity.
But it was Stella McCartney who really upped the ante, electing to shoot her latest collection on a Scottish landfill site. Models lay across the rusted husks of old cars and languished on top of household waste. From a sustainability perspective, Stella McCartney is the luxury Kering group's top-performing brand. Much of this success is based on McCartney's own personal resolve. It's clear that the landfill backdrop is not just an interesting aesthetic to her.
Now there's an obvious contradiction between selling fashion and instructing us to buy less, but what these designers are calling for is some sanity in an industry now rated as the fifth-most polluting on the planet.
The fashion industry has developed a pretty terrible reputation – not least for exploitation of human capital, outsourcing production to the world's lowest-wage economies. Four years ago, 1,133 garment workers were killed in Dhaka, Bangladesh, while producing clothing for high-street brands and their subsidiaries. After that, many worried what was next.
For those in and around the industry, garment waste has long been rumoured to be the next big scandal. Globally, levels of production and consumption are forecast to increase as fashion waste becomes an environmental crisis to rival plastic pollution in oceans. This is a tale of over-production and supply, powered by the relentless "fast fashion" system of production that over the past three decades has revolutionised both the way we dress and the way clothing is produced – and not often for the better.
Much of the waste in the fashion industry is hidden along a chaotic supply chain and doesn't make it into the environmental accounting that underpins a Wrap report. Perhaps the worst of it comes in the form of readymade garments, assembled and sewn but discarded because of an order mistake or an issue with the colour. According to industry insiders, this waste represents 3-5% of every factory's inventory (and a large factory in Dhaka can produce 240m pieces a year).
There is no verified figure for the amount of clothing produced globally each year (predominantly in low-wage textile hotspots like Dhaka without waste management systems) but my own research puts it between 80bn and 100bn garments. That means a lot of hidden fashion waste.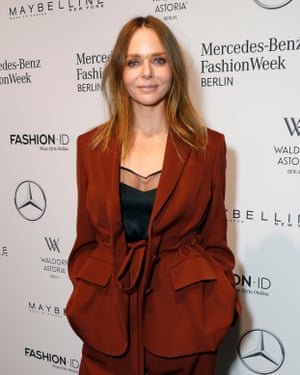 Where it becomes highly visible is on the outskirts of big production areas, such as the garment districts of Dhaka. This is where the production waste leaves the factories and is absorbed by the air and earth in the local community. Waste from the cutting room (called jhut) often ends up in so-called go-downs. These makeshift sorting operations are the stuff of legend in Dhaka, with fires a regular occurrence. But what happens to all the rest?
"You don't even want to know," says Estonian designer and clothing waste researcher Reet Aus, who spends a lot of time following unwanted garments out of factory gates. "You see it by the side of the road being sold, or just dumped, but a lot is burned," she says. "I know a brick factory near the garment district where the main fuel is garment waste. You can't really see anything around there, the pollution is terrible. Remember that thanks to the chemicals and finishing agents, used textile waste is basically toxic waste."
Meanwhile, the urge to buy grows stronger as clothes shopping takes on a quasi-addictive quality. And let's be honest here, are the fast-fashion corporations with their extraordinary profits likely to do anything about consumption, the driver of waste and the driver of the industry's impact? Their business model, after all, depends on it.
Increasingly these brands are signposting a way of allowing us to have our cake and eat it. They are buying into recycling schemes and investing in competitions to close the loop on textile fibres. The idea is that if they can collect waste garments and regenerate fibres to be used in new garments, the impact of fast fashion can be negated.
The trouble is, it's hard to buy into. I have been critical of brands overclaiming in this area before, particularly when I looked at the numbers around H&M's recycling week in 2016. In truth, there are quite a few technical barriers to closing the fashion loop – that is, regenerating fibre from an old, unloved outfit, spinning and making it into something else, all within a timeframe and quality that's interesting to the consumer.
"Every fabric is different," says Aus, "so one garment might contain a blend of different fabrics. On top of that, you have to strip out the zippers and buttons inherent in post-consumer fashion waste." So while a consumer may believe that a loved jumper or sundress is going to be magically regenerated into a new item, in practice your old T-shirt is probably going into a well-worn recycling network.
She and her team have developed software to keep track of potential garment waste data during production, which she is trialling with a large manufacturer: Beximco in Bangladesh. By getting information about the volume and material of leftover textiles, she can design that material back into a product before it becomes waste. "I'd rather not produce waste in the first place," she reasons. "Plus, this is a better system for large brands who find recycling and regeneration difficult. That is easier for smaller, more agile companies." This means some of fashion's big lessons about its waste may come from unlikely parts of the apparel world. For once, the smaller companies have a chance to steal.
Tom Kay, the founder of Cornish outdoor brand Finisterre, is addressing a waste problem highly relevant to his customer and doesn't care that it might seem niche to the rest of us. "The average neoprene wetsuit only lasts two years," he says. "We've redesigned with wider seam tape and better stitching but it still only lasts probably for three. It would be disastrous for these things to be dumped, but there's nowhere for them to go. That's why you see them piled up in people's garages."
Last week, he launched an intriguing job advert in partnership with Exeter University: a £26,000-a-year position, paid by Finisterre, to be filled by a materials scientist who shares his dream of making wetsuits from wetsuits. "We don't know how it will go, but I'm excited," he said.
The Figures
■ Last year 1,130,000 tonnes of new clothing was purchased in the UK – an increase of 200,000 tonnes since 2012.
■ Fashion in the UK lasts an average of 3.3 years before a garment is discarded.
■ Extending the life of a garment by an extra nine months reduces its environmental impact by 20-30%.
■ Providing one tonne of clothing for direct re-use by giving it to a charity shop or selling it online can result in a net greenhouse gas saving of 11 tonnes of carbon dioxide equivalent.
*This story first appeared on The Guardian
Fashion Revolution's Transparency Index reveals that the top 100 global fashion brands still have a long way to go towards transparency
Many of the biggest global brands that make our clothes still don't disclose enough information about their impact on the lives of workers in their supply chain and on the environment, new research reveals.
The way fashion is made, sourced and consumed continues to cause suffering and pollution. Fashion Revolution believes that this urgently needs to change and that the first step is greater transparency.
Transparent disclosure makes it easier for brands, suppliers and workers, trade unions and NGOs to understand what went wrong when human rights and environmental abuses occur, who is responsible and how to fix it.
The Fashion Transparency Index 2017, released today, reviews and ranks how much information 100 of the biggest global fashion companies publish about their social and environmental policies, practices and impacts.
The research found that even the highest scoring brands on the list still have a long way to go towards being transparent. The average score brands achieved was 49 out of 250, less than 20% of the total possible points, and none of the companies on the list scored above 50%.
Adidas and Reebok achieved the highest score of 121.5 out of 250 (49% of the total possible points), followed by Marks & Spencer with 120 points and H&M with 119.5 points. However, only 8 brands scored higher than 40%, while a further 9 brands scored 4% or less out of 250 possible points, of which Dior, Heilan Home and s.Oliver scored 0 because they disclose nothing at all.
Out of the premium and luxury brands reviewed, 9 scored between 21-30% of the total possible points, which was higher than the average. The other 10 scored 15% or less.
The good news is that 31 brands are publishing supplier lists (tier 1) including ASOS, Benetton, C&A, Esprit, Gap, Marks & Spencer, Uniqlo, and VF Corporation brands since April 2016. This is an increase from last year when Fashion Revolution surveyed 40 big fashion companies and only five were publishing supplier lists.  This year 14 brands are publishing their processing facilities where their clothes are dyed, laundered, printed or treated. However, no brand is publishing its raw material suppliers. Banana Republic, Gap and Old Navy scored highest on traceability (44%) because their supplier list includes detailed information such as types of products or services and approximate number of workers in each supplier facility.
Meanwhile few brands disclose efforts on living wages, collective bargaining, and reducing consumption of resources (on average 9% of the information required in these categories was disclosed), sending a strong signal to brands to urgently look at their own business models and purchasing practices.
There is a long way to go in order for the industry to pay a living wage, as only 34 brands have made public commitments to paying living wages to workers in the supply chain, and only four brands — H&M, Marks & Spencer, New Look and Puma — are reporting on progress towards achieving this aim.  This shows that much more needs to be done and faster by brands to ensure that workers, from farm to retail, are paid fairly.
Fashion Revolution Co-founder Carry Somers said:  "People have the right to know that their money is not supporting exploitation, human rights abuses and environmental destruction. There is no way to hold companies and governments to account if we can't see what is truly happening behind the scenes. This is why transparency is so essential."
"Through publishing this research, we hope brands will be pushed in a more positive direction towards a fundamental shift in the way the system works, beginning with being more transparent."
Dr. Mark Anner, Director, Centre for Global Workers' Rights Penn State University said: "The time has come for brands and retailers to make their entire supply chains transparent. The time has also come to establish sourcing practices that are conducive to the human development and empowerment of the workers who work so hard every day to make the clothes we wear."
Brands were awarded points based on their level of transparency across 5 categories, including: policy & commitments, governance, traceability, supplier assessment and remediation and spotlight issues which looks at living wages, collective bargaining and business model innovation. Brands were selected to represent a cross section of market segments including high street, luxury, sportswear, accessories, footwear and denim sectors.
The data revealed that:
Policy & Commitments – overall score = 49%
The highest concentration of brands scored in the 71-80% range with 11 brands scoring between 81-90% and 16 brands scoring 20% or less. By and large, brands are disclosing the most about their policies and commitments on social and environmental issues.
Governance – overall score = 34%
The largest number of brands (37) score 10% or less. 13 brands fall in the 41-50% range. Marks & Spencer is the only brand to score 100% meaning that they're disclosing who in the team is responsible for social and environmental issues, along with their contact details, board level accountability, and how other staff and suppliers are incentivised to improve performance.
Traceability – overall score = 7%
Overall brands are disclosing few details about their suppliers. 31 brands are publishing supplier lists (tier 1). 14 brands are publishing their processing facilities. No brand is publishing its raw material suppliers. 23 brands disclose having updated their supplier list at least in the past 12 months, while Target says it uploads its supplier list quarterly and ASOS promises to do so every two months.
Know, Show & Fix – overall score = 16%
The highest concentration of brands (36) fall in the 11-20% range whilst another 31 score less than 10%. Adidas and Reebok score highest at 39%, with 7 other brands joining them in the 31-40% range. Brands often disclose their supplier assessment processes and procedures. However brands share little information about the results of their supplier assessments, and brands don't publish much about the results of the efforts made to fix problems in factories.
Spotlight Issues – overall score = 9%
Overall, brands are disclosing little about their efforts to pay living wages or to support collective bargaining and unionisation. Few brands are disclosing their efforts to address overconsumption of resources. Marks & Spencer, New Look and H&M scored in the 41-50% range, and no brand scored above 50%. The majority of brands scored less than 10%.
The report provides recommendations for how consumers, brands and retailers, governments and policy makers, NGOs, unions and workers can use the information contained in the Fashion Transparency Index to make a positive difference.
You can find more information at FashionRevolution.org
This slideshow requires JavaScript.
What product you buy can determine the quality of life the maker leads. Fairtrade-certified clothes ensure that those associated with the garment are given what they rightly deserve.
Ever looked at a stylish, sequined maxi dress draped on a mannequin at the mall, glanced at the price tag and thought it was a suspiciously low price? You were probably right. Behind the rock-bottom rates of fast fashion, there are often unregulated supply chains that make no efforts to pay a living wage, and also ignore the basic rights of the people who make these clothes. Price is not the only indicator, though — several luxury brands are as guilty as their lower-priced counterparts. From child labour to unsafe working conditions and low wages, the multi-billion-dollar profits of many large apparel brands often come at a human cost.
Fortunately, there is a growing awareness and demand for ethically produced clothing, fuelled by consumers. The week leading up to April 24 every year has been declared Fashion Revolution Week, in memory of the Rana Plaza tragedy and to keep the spotlight on the issue.
"Brands need to commit to ethical fashion", says Devina Singh, Campaigns and Outreach Manager of Fairtrade India. "Fashion revolution is about celebrating ethical practices in fashion and asking more brands to give the consumer an option of fashion that is fair. When brands opt for the Fairtrade certification, you can be sure that the people behind your clothing and style statement were treated fairly throughout the supply chain. This includes the people who grew and made your clothes. I've seen transparent supply chains – it's possible and it's easy; all it takes is a commitment from the brand." Devina elaborates that the Fairtrade certification is given to organisations that follow Fairtrade guidelines. Behind Fairtrade clothing lies a fair price for cotton, fair wages for the garment factory workers, empowerment of women farmers, respect for the environment and the commitment to invest Fairtrade premiums into the community that made the clothing.
"It's fashionable to be non-exploitative. Our clothes are the skin that we put on and reflect who we are," she says. She speaks of the resounding success of the Show Your Label week that Fairtrade India organises to support the international Fashion Revolution movement, which raises awareness about the workers who made the clothes and farmers who grew the cotton. All over India, everyone from students to celebrities wore their clothes inside out, took a picture of their favourite labels and uploaded it on social media, asking their brands — "Who made my clothes? Who grew my clothes?"
As awareness surges, so does the market for ethical brands that are rising to the occasion with designs that are both beautiful and durable. Safia Minney, founder and director of U.K.-based fair trade clothing brand People Tree, and author of the critically acclaimed book Slow Fashion – Aesthetics Meets Ethics, is a staunch advocate of the Slow Fashion movement. "Fast fashion needs to slow down," she says. "If it slows down, true responsibility is possible through better trading practices. Make it your business to shop in line with your values. Consumers want to know the real story behind who made what they wear and they don't want to continue to be part of the problem. Many ethical brands are coming into the market and People Tree is innovating with designer and retailer collaborations and further strengthening its clothing offer. The ethical fashion market is an exciting space to watch!"
Technology, too, is propelling this movement forward. The app Shop Ethical! (available on android and iPhones) is a handy list (that's regularly updated) of companies and their practices, relating to both raw material sourcing as well as worker rights. With a single click, you can find out how ethical their supply chain is, and support the brands with good ratings by opting for their products.
While consumers are increasingly asking questions before they buy their clothes, there is also a growing movement against the trend of high consumption. "Buy less fast fashion, clean up your wardrobe, re-style, swap clothes, re-make your clothes and buy second-hand.  If you need to buy new, buy fair trade, ethical and organic-certified clothing," says Safia.
Joshua Fields Millburn, bestselling author and co-founder of http://www.theminimalists.com, believes that consumers have the power to look past the sale sign and make a deeper, more conscious decision. "We all need some stuff. Many of us have taken it too far, though. Consumption isn't the problem; compulsory consumption is. The solution is to consume deliberately — to ignore the inane advertisements so we can determine what we need based on our lives, not on what we've been told."
Devina signs off with the reminder that clothing isn't a trivial purchase, but one that impacts the lives of many: "Every time you buy a product, you're voting for the kind of world you want to live in."
 *This first appeared on The Hindu